The Singles:

Love Me Do/P.S I Love You

Please Please Me/Ask Me Why

From Me To You/Thank You Girl

She Loves You/I'll Get You

I Want To Hold Your Hand/This Boy

Can't Buy Me Love/You Can't Do That

A Hard Day's Night/Things We Said Today

I Feel Fine/She's A Woman

Ticket To Ride/Yes It Is

Help/I'm Down

We Can Work It Out/Day Tripper

Paperback Writer/Rain

Yellow Submarine/Eleanor Rigby

Strawberry Fields Forever/Penny Lane

All You Need Is Love/Baby You're A Rich Man

Hello Goodbye/I Am The Walrus

Lady Madonna/The Inner Light

Hey Jude/Revolution

Get Back/Don't Let Me Down

Ballad Of John And Yoko/Old Brown Shoe

Something/Come Together

Let It Be/You Know My Name

Yesterday/I Should Have Known Better

Back In The USSR/Twist And Shout

Sgt. Pepper's Lonely Hearts Club Band-With A Little Help From My Friends/A Day In The Life

Movie Medley/I'm Happy Just To Dance With You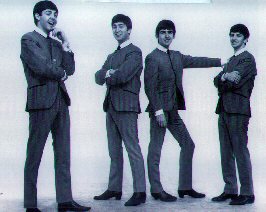 This Is The British Version Of The List:
Between 1962 and 1982, there were a total of 26 singles
released by The Beatles.
Here, on this website, are ALL the record sleeves from
all 26 of those releases, along with a bit of recording
information about those songs and accompanying midi files.
Another idiot idea from The Yeller Pages staff,
BUT, here it is anyway!!!!